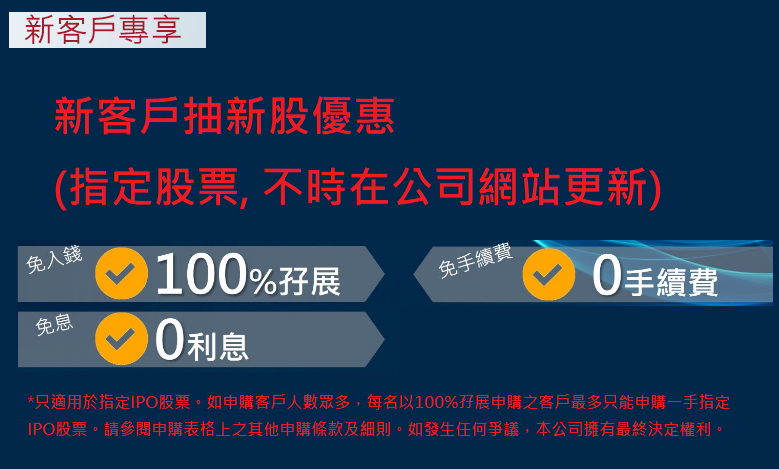 <<<IPO Application form Download>>>
<<<IPO Application form Download (1 Board Lot 100% Margin Promotion)>>>
Application for IPO Subscription
Application

Cash (Full payment)

Margin

Fee

By Phone or Online HK$88

By Phone or Online HK$88

Date of application

9:00 am on the first day of offering

12:00 pm on the first day of offering

Period of application

Three and a half days (individual stocks will likely extend the IPO period)

Application deadline

4:00 pm on the deadline of subscription

12:00 pm on the deadline of subscription
( or further notice)

Margin fee

Not applicable

3.8%

Application method

1. By phone or visit in person to apply
2. Apply on the online trading platform

Payment method

Deposit relevant funds and handling fees to the subscription account

Deposit relevant funds and handling fees to the subscription account

Successful application

The stock will be directly deposited into the client's securities account. The clients will receive an email notification one day before the listing date

Payment date

4pm on the payment date

4pm on the payment date

Refund

Refund will be deposited into client's securities account no later than the listing date
IPO subscription FAQ

Q: What is an Initial Public Offering (IPO)?
A: An initial public offering (IPO) is a company or institution that sells new shares, bonds or certificates of deposit to public investors for the first time to raise funds.
Q: What are the risks of subscribing to new shares?
A: Subscription is higher than investors need
Over-subscription of new shares may occur. Relevant companies may therefore set up a process for placing shares, select investors and determine the number of placings. Investors who subscribe for more shares than are actually needed to increase the number of new shares required for successful subscription may be able to obtain all subscription amounts because of the over-subscription of the prospectus and need to pay the full cost of the application.

Market risk - The stock price may go up or down, and after the official listing, there is a chance to fall below the IPO price.

Business risk - Before deciding to invest, customers should understand the nature of the company's business, thoroughly read its offering prospectus, sales documents, leaflet summary, company financial report, and even seek professional advice.

Suspension or delay in listing - The listing of new shares may be suspended or delayed for any reason. The customer still has to bear the handling fee and interest expenses related to the application for new shares.

Q: What are the benefits of buying new shares online?
A: Day and night
This is a 24-hour service.
Simple operation - It only takes a few simple steps to subscribe for new shares online.
Fast and safe - The allocated shares will be directly deposited into the application account on the first trading day to avoid the risk of loss.
Fast refund - The subscription funds can be used immediately after the refund, without the need to deposit a refund check.
Q: What is IPO financing subscription?
A: Large subscriptions of new shares will increase distribution opportunities and the number of shares allocated. Through new share financing subscription, customers can use existing funds to subscribe for more new shares. Customers only need to pay a 10% deposit to lend 90% of credit to subscribe for new shares. If the distribution of the share allocation exceeds 10% of the total subscription, you must pay the excess payment one trading day before the listing. (Credit limit may be adjusted depending on individual stocks)
Q: What are the risk factors involved in IPO investment?
A: Risk of IPO Investment
Over-subscribing to an IPO In some cases, IPOs may be oversubscribed. The company may go through a balloting or allocation process to determine whether an investor will receive any securities and if so, in what quantity. An investor may be tempted to subscribe for a greater quantity than he intended to, believing that he will not receive the full amount in case of over-subscription. However if the IPO is not oversubscribed, the investor will receive all the quantity applied for and will have to pay the full cost.
Market Risk
Investments involves risk, company's share prices can fluctuate, and may drop below its initial IPO price. You should carefully consider whether any investment products or services mentioned herein are appropriate for you in view of your investment experience, objectives, financial resources and relevant circumstances
Company Risk
It is vital to understand the company and the business of the investment. You should thoroughly study the prospectus, financial reports and even seek professional advice before making investment decisions.